This is our favourite course to teach, introducing Scuba Diving to the complete beginner. We have been working with all of the major British Tour Operators since almost day one. Our Dives take place from the beach, and are conducted in the sea in a buoyed off area. This course operates daily and 'photos and dvd's' of each dive are available to view and buy.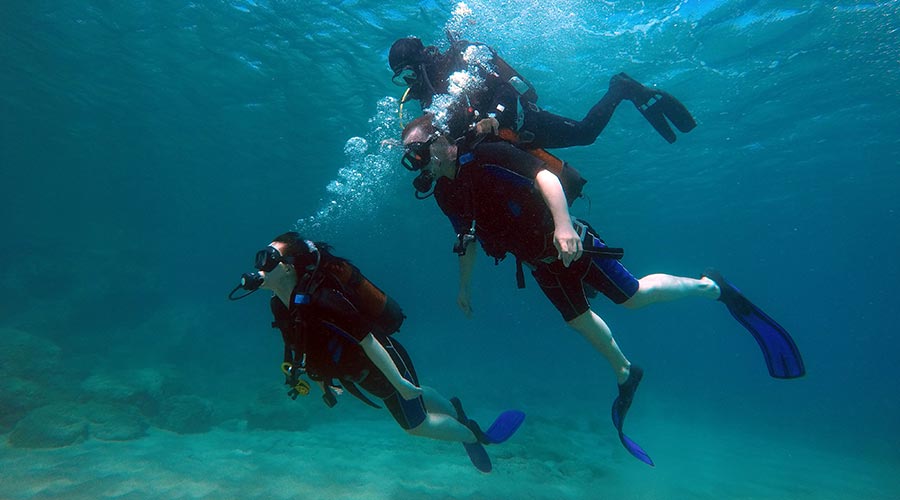 ---
FAQ
Why Discover Scuba Diving?

The PADI Discover Scuba Diving Program lets you experience the thrill of diving under the supervision of a PADI Professional in pool or pool-like conditions. During your adventure, you'll master some basic concepts and scuba skills and might even head off to experience an open water adventure.

What Do I Need To Start?

Minimum age: 10 years. A completed and signed Discover Scuba Diving Brochure

What Will I Do?

When you participate in a Discover Scuba Diving program, you discover excitement and adventure - freedom and serenity. Nothing compares to the 'weightless' exhilaration of breathing underwater. Only a Diver knows the feeling!

How Long will it take?

Get ready to Dive today! Whether you watch the short PADI Discover Scuba Video or are briefed with the Discover Scuba Diving Flip Chart, you'll enter the water quickly and ready for your Scuba Adventure.

What Will I Need?

*A sense of adventure *Discover Scuba Diving Brochure - (this is provided for you)

Where Can I Go From Here?

As soon as you Discover Scuba Diving, you're on your way to an internationally recognized certification. That's because you may learn skills used in the PADI Open Water Diver course during your Discover Scuba Diving adventure.
---
If you and your instructor elect to practice these skills, they may be credited toward the PADI Scuba Diver or Open Water Diver certifications. Stop by your PADI Dive Center or Resort for more information on the PADI Open Water Diver program.
"Welcome to a New World"
The new Dicover Scuba Diving program opens the door to a whole new world - the fascinating world of the Blue Planet! You will get to know a new realm that is even more beautiful, colourful and exciting than you ever dreamed possible!
The PADI Discover Scuba Diving Program is a good first step into the PADI system of Divers' Education. You will make your first dive on the very first day, with Professional guidance of course!
Upon completion of your education, you will receive your Discover Scuba Divers' Certificate which authorizes you to continue your Diving Career at one of more than 4,700 PADI dive centres worldwide!
---
PADI DISCOVER SCUBA TRY DIVE
All participants will be required to complete a medical statement and PADI (Professional Association of Diving Instructors) form, this will normally be done during the transfer to the dive centre.
The intro dive consists of three parts:
1. The Lecture
The lecture will include an explanation of the following and will be approximately 25 minutes duration.
Equipment: The purpose and use of wet suit, fins, mask, BCD, regulator and attachments, weight belt.
Also included in the lecture is an explanation of correct finning technique, mask clearing, pressure and ear equalization and neutral buoyancy. Maximum depth and duration of the dive.
2. Shallow Water Training
Shallow water training takes place in the sea in a maximum of 1 metre depth. Students are given advice on correct breathing and fining techniques and correct fitment of mask.
They will have the opportunity to have a good swim around to get comfortable with the equipment and the new environment they are in.
A dive brief will take place immediately before commencement of the dive. Students are reminded of hand signals and ear equalization. The dive leader and snorkelers are identified to the students, and their roles during the dive. The training and brief will last approximately 20 minutes.
3. The Dive
The intro dive starts at a depth of 1 metre and continues to a maximum of 4 metres. The entire dive takes place within a buoyed area. A minimum ratio of 1 Instructor/Divemaster per two students is used on all beginner dives. During the dive the participants will be led over a reef and have the opportunity to stop and feed the fish and have their photo taken.
The dive will last approximately 20 minutes. All intro dives take place from the beach. What happens next will shock you.